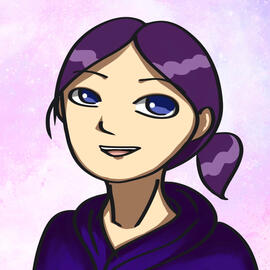 Cyd's Art Portfolio
Digital and Traditional Artist, fan of many things
Hello! I am a digital and traditional artist who likes to draw fanart and OC characters. I like to listen to music, read some novels, and watch videos online. You can view a collection of my works here or see other works on my social medias.

Interested in a commission? Contact me and fill out my commission form! The pricing for my commissions are here.
Commission Sheet
Order form
Please fill up this form
Prices
Cleaned Sketch
Headshot: 15 USD
Half Body: 20 USD
Full Body: 25 USD
Colored and Shaded
Headshot/Bust: 30 USD
Half Body: 40 USD
Full Body: 50 USD
Chibi
Cleaned Sketch: 20 USD
Colored and Shaded: 30 USD
Terms of service
By commissioning me, you are agreeing to the terms of service below. These terms are made to ensure a smooth and clear commission experience, to protect both the commissioner and the artist from scams.
General
Please be respectful.
Harassment will not be tolerated and your commission will be canceled if this occurs.
Follow the rules and instructions provided on my website or in this form (they will be the same).
I only work with provided materials. Any changes outside of the initial project must be discussed and additionally approved.
I have the right to decline your commission.
Will Draw
Any Human/Humanoid
Fan art
Original Characters
Animals
Furry/Anthro
Kemonomimis
Won't Draw
NSFW
Heavy Armor
Mecha
Complex Backgrounds
Extreme Gore/Violence
Religious, political, discriminating, hate art
Process
All personal information will be kept confidential.

1. All commissioners must fill up this google form and upload their references through this form. A visual reference is required. Please make sure your references are up-to-date, clear, and concise, or you might not receive an accurate depiction of your character. I will not be responsible for any mistakes on the final version of any commission due to incorrect or missing information.

2. Two WIP sketches will be given. The first is a rough sketch of general composition and character. The second will have the colors blocked out if the commissioner chose a fully colored and shaded commission. The commissioner can ask for revisions within three days of these WIP sketches. WIPs might also be given if I would like clarifications about something in the commission.

4. After a commission is finished, it would be shared to the commissioner as a PNG image via Google Drive, with my signature in the corner. No changes are allowed to be made thereafter.

5. The time of completion will range between 1 week to 1 month depending on many factors. You will be notified ASAP if your commission takes longer than this.
Payment/Refunds
Please view my commission sheet or website for pricing. I have the right to change my prices at any time, but this will not retroactively affect the commission payment.

All commissions must be paid 50% upfront, 50% before the final version is shared to the commissioner.

Payments are accepted in USD and must go through Paypal. Any non Paypal invoice payments will be considered a tip and will not be refunded.

When commissioning me, please input your Paypal email address in the Google form so that an invoice can be prepared and sent. All invoices are due within a week from receiving them, unless agreed otherwise. Invoices past the due date will be cancelled, also cancelling the commission associated with them.

I have the right to cancel and refund the money for your commission at any time. Full refunds are issued only before I have sent the 2nd WIP sketch. I would only refund 50% if the commissioner cancels the order after the 2nd WIP sketch has been sent.

The commissioner has no right to cancel or demand a refund from the artist after the final commission drawing has been shared. If no money has been sent, the commissioner has the right to cancel the commission with no refund.

If you file a chargeback against me after the final art commission has been sent, your right to everything I have made for you will be retracted. I have the right to file a complaint if needed and you will be forbidden to commission me, cyd_arts, cyd, in the future.
Copyright/Usage
I, the artist, hold every right to the produced drawing, not the commissioner. I do not claim any rights to characters drawn and other intellectual properties used in the process of creation. I retain ownership of all artwork to be used for commercial, educational, and promotional purposes. Upon any cancellation, I retain all artwork related materials and progress ownership.

I, the artist, am allowed to use the copyrighted artwork to:
-Promote myself within any place or site.
-To display/post it anywhere to my liking.
-Use it in my portfolio.
-Sell the artwork in digital or physical forms, unless agreed otherwise.

The commissioner is allowed to:
-Use the copyrighted artwork for personal use only unless agreed otherwise.
-Print the art, and claim the right of their character(s) but not the drawing itself.
-The commissioner may also use the work as part of a reference or crop it for an icon, with proper credit to the artist and with watermark/signature unaltered.
-Repost the art with proper credit given to the artist.

The following is considered Copyright infringement of Personal Use:
-Reproducing/using the copyrighted artwork commercially, unless agreed otherwise. (Making money off of it in any way)
-Taking credit for the creation of the artwork.
-Altering the artwork without the artist´s consent, including recolors, removing signatures/watermarks, adding additional details to the drawing.

Commercial Use:
-A Purchase of Commercial rights to the artwork will always be 300% of original price and must be negotiated beforehand.
-With commercial rights, you are allowed to reproduce and use the artwork for commercial purposes
-Credit will still be required for usage of the artwork, even if altered or edited.
Contact Me
You can find my email, social media, kofi, and redbubble accounts using the widgets below! You can also reach me through my discord cyd#3420.